9 May 2018 – Reading Time: 2 min
Review: PLASTINDIA 2018, Ahmedabad

The 10th edition of the PLASTINDIA Exhibition and Conference took place from 7th to 12th February 2018. PLASTINDIA is the most significant exhibition on plastics in India and offers a unique overview of the world of plastics in fifteen exhibition halls on a gross area of 125.000 sqm. Like the previous exhibitions, PLASTINDIA 2018 was hosted at the exhibition center Helipad Grounds in Gandhinagar - Ahmedabad (Gujarat, India).
Mission
This specialist trade fair, which is triennially held, is organized by the Plastindia Foundation, with the support of the Government of India, the Government of Gujarat and overseas Associates Messe Düsseldorf, Adsale and EUROMAP patronage.
The PLASTINDIA includes three special exhibitions: The PROPLAST for processed plastics products, the PLASTICULTURE as a display of plasticulture and the RECYCLING Pavillion, where important focus was put on the reuse and intelligent recycling of plastics.
The parallel held 2-day International Conference showcased several future technologies ready for commercialisation, as well as innovations based on plastics – inter alia for the automotive and recycling industries – and addressed as well environmental topics.
Visitors & Exhibitors
According to the organizers, this year's exhibition attracted 245.619 national and international industry visitors who came to see the latest technical trends, fair novelties and products of the nearly 1900 exhibitors, hereof 600 overseas exhibitors from 38 countries.
RINGFEDER at PLASTINDIA
RINGFEDER POWER TRANSMISSION India PVT. LTD., subsidiary company of RINGFEDER POWER TRANSMISSION GmbH and first time participating as exhibitor at the PLASTINDIA, presented the whole range of products at its 18 sqm booth.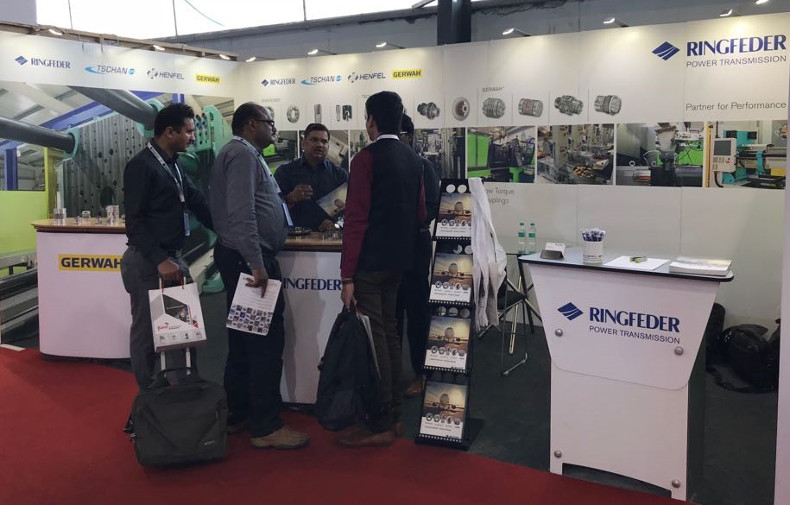 Within the six exhibitions days more than 300 professional visitors, particularly from the Plastic Machinery manufacturing industry, attended the RINGFEDER-booth to learn more about our products and solutions. Particularly about elastomeric couplings and locking elements, for their Plastic Injection Molding Machines having a clamping force capacity of 50 to 3000 tons.
The Servo-Insert Coupling that connects the servo motor to the hydraulic pump remains an important point in that sub-assembly and calls for a proven quality product. And this requirement of such good quality already started helping RINGFEDER India by successfully winning some major players in this industry as customers.
Conclusion
The 10th issue of the PLASTINDIA again proved to be the major event for the plastic producing and related industries in India. Together with the parallel held International Conference, where inter alia global CEO discussed what future holds for this industry, PLASTINDIA provided an excellent platform to exchange knowledge with the main stakeholders of the plastics industry.
Shri K.K. Seksaria, President of the Plastindia Foundation, summarized after the show: "The overwhelming support of exhibitors and visitors has created new records and has laid a foundation of an even bigger and better Plastindia Exhibition 2021". Thus, we are already excited about the fresh insights and latest technologies, which will be presented and discussed at the next PLASTINDIA and International Conference in three years' time.