1 Oct 2021 – Reading Time: 3 min
RINGFEDER® Shrink Discs – Genuineness is only Ensured by the World Market Leader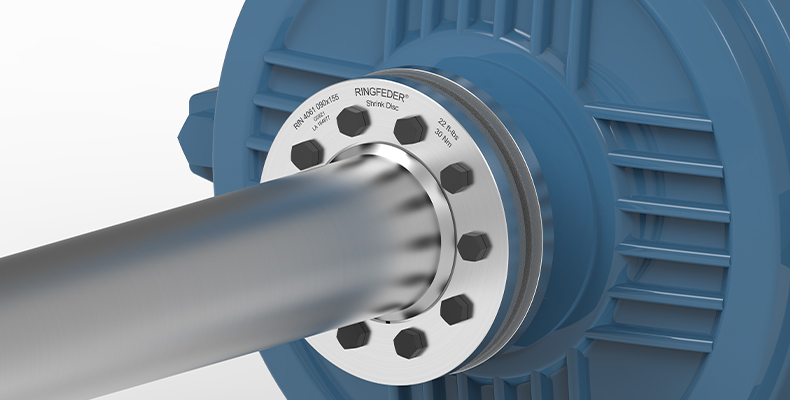 When we heard that counterfeits of our genuine RINGFEDER® shrink discs were being circulated, we were especially surprised with the falsifiers' audacity: Even our company initials had been copied – and incorrectly, too. Our lab investigations quickly showed that these were imitations of inferior quality and performance.
Warning of counterfeit products:
Falsified RINGFEDER® shrink discs are currently in circulation. If you are uncertain and suspect that you have acquired a copy, please do not hesitate to contact us.
In the following information, we would like to clarify what to look out for with regard to counterfeit products and how you can differentiate a copy from the original RINGFEDER® shrink disc.
What are shrink discs actually?
Shrink discs are flange-type, frictionally locked, externally clamped shaft-hub connections and a powerful and reliable alternative to common shrink fits as well as to splined, keyed or polygon connections.
They are pushed onto the hub from the outside. By tightening the screws the inner diameter is reduced so that a pressure is applied onto the outer diameter of a hollow shaft. This pressure creates a friction-locked connection between the shaft and the hub. Shrink discs are typically used on hollow shafts of gearboxes and in combination with coupling components. In addition to torque and bending moments, they are able to also transmit axial and radial loads.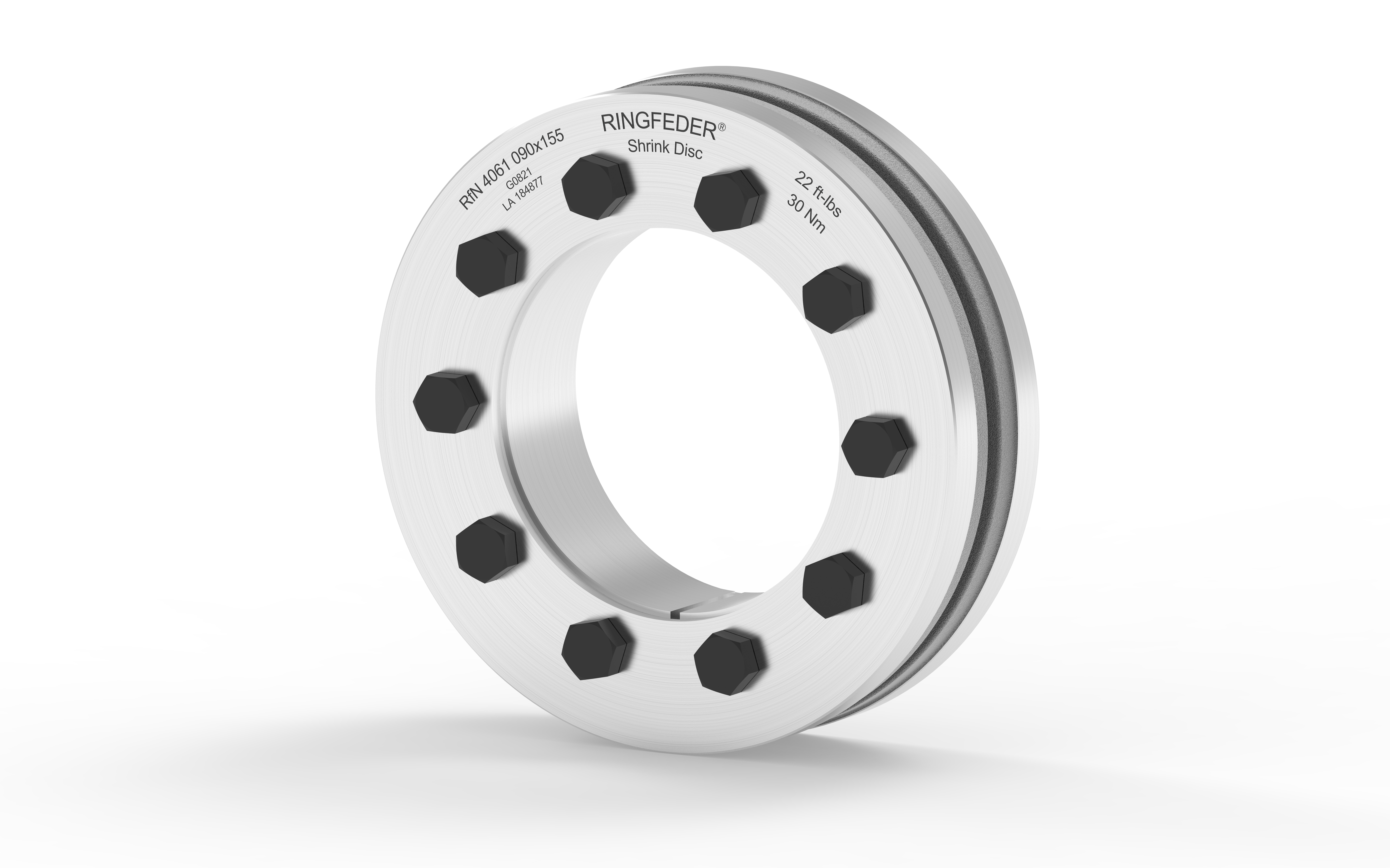 Copy versus original – what are the differences?
The main difference between the original RINGFEDER® shrink disc and the copy lies in their core materials. Low-grade steels are deployed in the counterfeit which are not capable of being loaded with the same stresses and, therefore, cannot transmit the same forces like the original shrink disc.
On top of that, copies are mostly not true to dimensions. In other words, they are produced cheaply, quickly and with higher tolerances. Furthermore, inappropriate screws or screws with lower property classes, low-grade oils and greases are used. And it is precisely the latter that is of very high importance to us, because lubrication is a decisive design factor.
What can go wrong when using counterfeit products?
When using a copy, the function (i.e. torque transmission) is substantially limited. Counterfeit products also frequently fail. In the worst cases, other equipment components can severely be damaged, for example, if the shaft and hollow shaft cold-weld to each other while slipping through, or people can even be injured.
Shrink discs made from too soft material cannot be dismounted on account of their plastic deformation so that flame cutters have to be used for their removal, which, as a result, will destroy the shrink discs.
RINGFEDER® original shrink discs do not need maintenance. If properly installed and operated, they reliably fulfill their task for several decades. Nevertheless, customers contact us because they want to replace their old shrink discs. This is of course easily possible with an accurate-to-size and genuine quality product from RINGFEDER®.
How can you recognize a genuine RINGFEDER® shrink disc?
RINGFEDER® original shrink discs are laser-marked with a unique identification and date of manufacture.
Our shrink discs use drop forgings made from 42CrMo4 with a yield strength of 900 N/mm².
Our original products are clearly marked with a serial number and additional details such as date of manufacture, product denomination and screw tightening torque (in metric and US units, except for path-controlled designs).
RINGFEDER® products are always dispatched in original packaging – namely in a cardboard box, wrapped in oil paper or linen, and identified with labels along with our company logo.
Please also note that our custom designs may consist of any conceivable purpose-made material in order to comply with special requirements.


Genuine shrink discs only from the world market leader
With almost 100 years of expertise and experience in shaft-hub connections, we have the professional competence to produce our shrink discs in first-class product quality. We set technical standards and deliver path-breaking influence – always with the aim to constantly ensure superior performance for our target groups.
The original shrink discs from RINGFEDER® provide exceptional benefits: they are absolutely free of wear and do not require any maintenance, they are easy to mount and dismount, and they feature excellent concentricity and fatigue strength in case of alternating loads.
Trust in the original. If you have any questions in regard to our shrink discs, or if you suspect you have acquired an imitation of our product, just contact us. We are happy to help you!