17 Jul 2019 – Reading Time: 2 min
Case Study: Locking Assemblies for Securing Rotors in Impact Crushers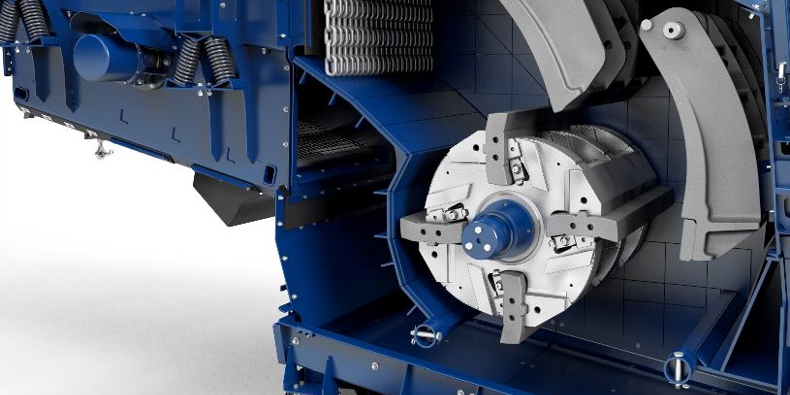 Apart from transmitting the rotor torque, locking assemblies installed in crushers are subjected to further loads such as bending moments and radial impacts. The factors which have to be considered for these applications are briefly described in this article. Please also watch the video and learn how modern impact crushers work.
Function principle
Impact crushers work according to the impact-and-blow principle. The material to be crushed is caught by a spinning rotor equipped with blow bars, accelerated and hurled against a stationary impact wall (the breaker plates), from where it is fed again into the crushing radius of the rotor.
Fragmentation continues until the material being crushed is small enough to pass through the gap between the rotor and the breaker plates. The actual crushing process takes place when the material gets into contact with the blow bars and the breaker plates. In addition, the material is reduced in size by inter-particle collision.
The requirements
In order to reliably absorb the combined loads due to bending moments and radial impacts occurring in the impact crushers produced by KLEEMANN GmbH, the yield point of the individual rings of the locking assemblies had to be given particular attention, with the aim to exclude plastic deformation in the locking assembly itself. It must be ensured even in extreme cases, e.g. overload of the crusher, that no damage to the system can occur.
On the other hand, no reduction of the minimum pressure is permissible during such occurrences, as this would cause so-called "axial rotor wandering" or shaft breakage due to fretting corrosion.
The solution
In case our standard RINGFEDER designs cannot fulfill the requirements, we develop tailored solutions in collaboration with our customers. For the KLEEMANN GmbH crusher we adapted the locking assemblies of the series RfN 7012 and RfN 7015 in terms of higher yield strengths, narrower taper angle and considerably wider thrust rings. These solutions have been successfully operating in the harsh working environment of different crusher types for many years.
Other application areas
Locking assemblies are also used in impact crushers for securing belt pulleys. The pulleys have to be fastened onto the crusher shaft in such a manner that the torques occurring at overload are safely transmitted until the pulley slips, or until the shear pin breaks.
As a provider of application-oriented solutions we once more fulfilled the specific requirements set forth by our customer by engineering an optimized design of one of our standard products. Optimum performance of the impact crusher is guaranteed.
To learn more about our Locking Assemblies for different applications, visit our website or send us contact request.