11 Oct 2017 – Reading Time: 3 min
Review: DGEB Conference 2017, Weimar

This year, the 15th D-A-CH Conference, which is organized by the Societies of Earthquake Engineering and Structural Dynamics in Germany (DGEB), Austria (OGE) and Switzerland (SGEB) took place on September 21 and 22. September.
This gathering of experts is conducted biennially and serves both as the exchange of knowledge between seismologists and engineers and the presentation of current scientific findings and experience gained from field applications. In addition, companies operating in the fields of earthquake engineering and structural dynamics as well as manufactures of earthquake protection systems had the opportunity to present their application solutions in the foyer of the Bauhaus university.
Visitors & Topics
This year's conference was comprised of 130 attendees; among those were seismologists, engineers and students who further developed and updated their knowledge. About 30 % of the participants came from European countries, notably Switzerland and Austria.
The numerous and wide-ranging lectures and panel discussions covered topics like protection systems against vibration (i.e. vibrations induced by local traffic and construction sites), seismic hazards and risk analyses, assessment and design of structures and buildings as well as numerical modeling and simulation.
Structural protective measures against earthquakes, vibrations and other dynamic impacts have not only been the focus of seismic engineers since the earthquakes in Kobe, Christchurch and Amatrice: Such measures do not only increase the structural safety and stability, and consequently, the lifetime of buildings, they also increase the safety and performance reliability of technical equipment, e.g. in power generation applications. Apart from in-depth expert knowledge, these specific fields of science and civil engineering require qualified practical expertise in the design of safeguards and protective systems.
Earthquake Protection Neglected
Worldwide social and climatic developments have led to ever growing challenges in regard to mitigating the consequences of natural disasters like earthquakes. Earthquakes not only strike distant continents, but may happen just around the corner, as proven during the last few years, for example by the above-mentioned earthquake in Italy.
Unfortunately, the topic earthquake protection is often neglected when new buildings are designed, at a time when it is still easy to implement appropriate structural measures. Usually, this is accompanied by economic constraints, which means that only the minimum standard is adopted in many cases. It is often not considered that the consequential costs incurred due to insufficient protective measures are many times higher than the investments for sufficient protection during the initial construction stage.
Seismic Design Philosophy
A more detailed analysis of the consequences of the losses and damage caused by earthquakes has shown that the level of development of the affected town or region has an essential influence on the magnitude of damage. This is because, in developing countries or in economically weak regions, the acceptance of larger damage is still very high due to lower economic constraints. A lot of persuading still needs to be done to improve the seismic design philosophy.
Industrial nations, by contrast, have growing expectations that modern structures and ground infrastructure will survive major earthquakes with limited or virtually no damage. Here, the economic constraints are very high, because a modern society can neither function under continual operative down-times, nor can tenants, owners, local authorities or governments afford to pay for it.
This has been proven by the earthquake in Christchurch in September 2010. Not only damaged buildings were affected: Tenants of adjacent properties and companies often only had limited access to their premises and suffered economic loss and financial stress. They are still feeling the affect today; repair of the damage caused from that time is still going on. For this reason, and in particular, against the backdrop of protecting life, earthquake engineering will continue to gain vital importance.
The great interest of students, professional associations, universities and companies this year has once again shown that this two-day conference provides an essential platform for the scientific and practical exchange of knowledge in the important field of seismic engineering which will be of increasing significance in the future.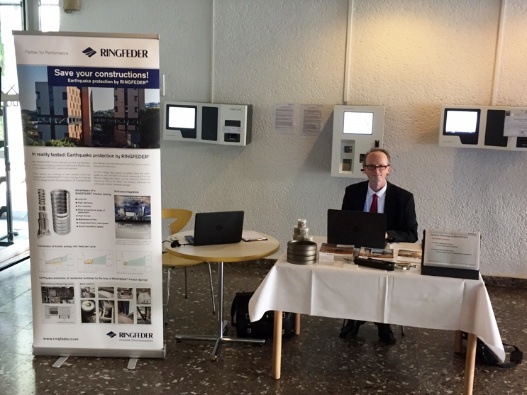 RINGFEDER POWER TRANSMISSION booth at the DGEB Conference, Weimar, Sept. 21-22, 2017

RINGFEDER POWER TRANSMISSION, as a sponsor of the DGEB conference, presented field-proven damping solutions on the basis of the RINGFEDER® Friction Springs to the sector experts.