31 Oct 2018 – Reading Time: 3 min
Review: Expomina 2018, Lima (Peru)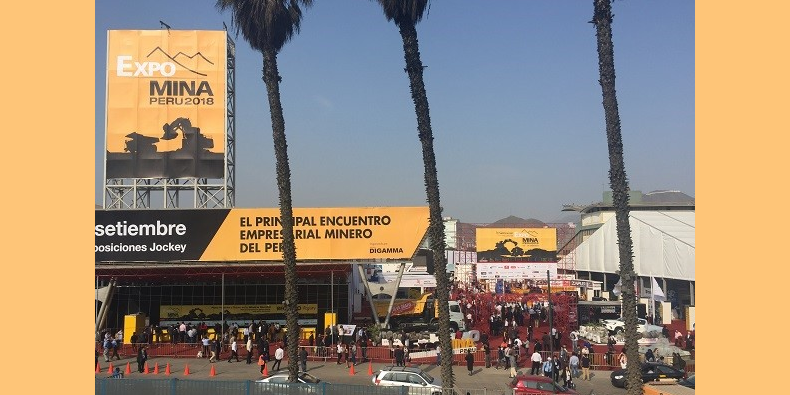 The 6th edition of the international trade fair EXPOMINA was held from September 12th to 14th in Lima (Peru). Within just a few years this exhibition has developed into one of the largest worldwide and most significant mining trade fairs in Latin America. A comprehensive range of heavy machinery, equipment and services were presented on an exhibition area totaling 47,000 m². Like previous trade fairs the event was again hosted in the Centro de Exposiciones Jockey.
Mission
EXPOMINA aims to particularly attract industry professionals and key market players, to inform them about the latest developments and trends in the sectors of mining, construction and logistics and to organize discussions on relevant specialist topics. The exhibition is organized by Grupo Digamma, a media organization located in Lima, which has made this a top priority.
Visitors & Exhibitors
During the three-day exhibition almost 110,000 industry visitors from 37 countries attended the exhibition and International Mining Conference to see product innovations and the latest technologies from 1,270 renowned national and international exhibitors from 27 countries: Among them leading mining companies and suppliers like Atlas Copco, Liebherr, Andritz Hydro S.A. and other notable manufacturers of mining equipment like e.g. Good Year and Robert Bosch, as well as renowned acclaimed engineering companies like Geoinnova Consultores Ltda or Brammertz Ingenieros, to name a few.
International Conference
Coinciding with the EXPOMINA 2018, the 3rd International Conference CONFEMIN, chaired by Javier Velarde Zapater (President EXPOMINA Perú 2018) was held.

The business roundtable gathered Peruvian companies and suppliers from all over the world. Over 103 renowned esteemed speakers from public and private sectors analyzed the achievements, challenges and perspectives of Peruvian mining through high-level and technical forums. The 10 forums addressed topics like:
Mining Public Policies,
Investment Climate and Market Prices,
Social and Environmental Development,
Mining Projects Operations and Expansions, and
Mining Engineering & Technology,
HENFEL Indústria Metalúrgica Ltda.
HENFEL, part of RINGFEDER POWER TRANSMISSION, participated with a booth in the Brazilian Pavilion, organized by the ABIMAQ, the Brazilian Machinery and Equipment Manufacturers Association.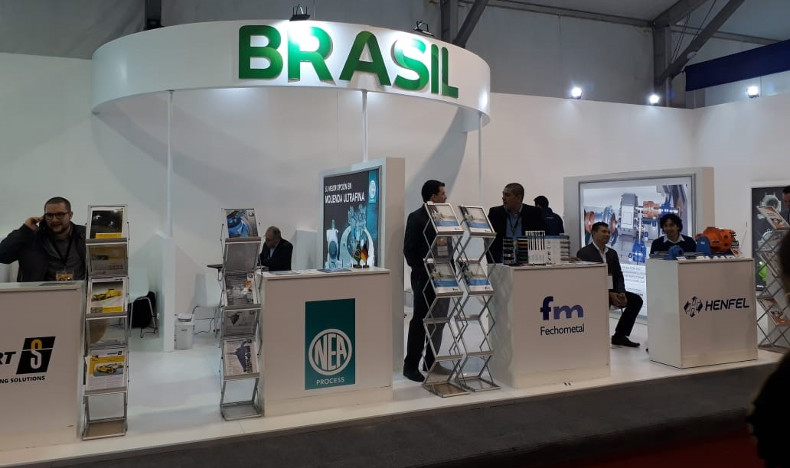 As a main focus, HENFEL and RINGFEDER solutions for copper ore processing were presented to the public. During the three exhibitions days the visitors gave particular interest to the unique special solutions and products offered, for instance:
HENFEL HDFB fully split elastic couplings and the HENFLUID NG hydrodynamic couplings, both products with constructive forms that allow radial assembly and disassembly, thus reducing the MTTR (Mean Time to Repair) of the coupling and coupled parts,
HENFEL special bearing housings with taconite powder proof seals that can increase the MTBF (Mean Time between Repair) of bearings and shafts in highly contaminated environment,
HENFEL industrial disc brakes with electromagnetic central actuator, which makes for a compact model with a high torque x weight ratio.
As for the RINGFEDER product line, a wide range of well-known, field-proven and most reliable keyless shaft-hub connections were presented: They can replace key connections or other less effective fixation methods, improving both torque transmission and maintenance procedures.
Conclusion
Javier Velarde Zapater, President of the EXPOMINA Perú 2018, stated prior to the show: "EXPOMINA PERU 2018 will be a great opportunity for leading mining companies and suppliers from Peru and abroad to participate and show their high-tech heavy machinery, products, services and technology".
Indeed, the 6th issue of the EXPOMINA has clearly demonstrated that this exhibition is an important platform contributing to the innovation and growth of the mining sector in Peru and Latin America, and broadly accepted by all market participants. Thus we are excited about how the EXPOMINA will further develop and already look forward to the seventh edition in two years' time.