8 Nov 2017 – Reading Time: 4 min
The Development of Locking Assemblies

Today, Locking Assemblies and Shrink Disks are standardized elements which provide a frictional connection between a shaft and a hub. They are not only capable of reliably transmitting torque, but of axial and transverse forces as well as bending moments, too. Oskar Peter is the father of the Locking Assembly. He recognized back in the 50`s that a locking assembly, in contrast to a key, is able to transmit considerably higher torques, thus allowing the engineering of much thinner and shorter shafts.
Inventor Gallery of the German Patent and Trademark Office
In 1997, Peter was inducted into the inventor gallery of the German Patent and Trademark Office in Munich. But, long before that, the name Peter has been synonymous for innovative machinery elements. He worked in a partnership with Ringfeder for many decades, and since 2006, his know-how has been in the possession of RINGFEDER POWER TRANSMISSION. The locking assemblies and -elements invented by Oskar Peter 50 years ago have been so successful that two type series have even remained unchanged since then.
Torque Transmission in the Foreground
Initially only intended for mere torque transmission, the RINGFEDER engineers have further developed and optimized the original locking assemblies over the years. So today, locking assemblies are capable of transmitting a combination of loads.
As such, it doesn't matter whether the locking assembly is subjected to
radial (for example, an impeller),

axial (in a press frame), or

bending (in the case of conveyor drum)
loads – as long as the resulting torque is not exceeded.
Many of the developed versions have been specifically enquired by customers or have been designed for specific markets and applications. The products range from anti-magnetic models for submarine vehicles to stainless steel versions which are notably required by the food and chemical industries.
Shrink Disks serving as External Locking Devices
For shaft-mounted gearboxes, shrink disks, which are easy to install from the outside, have replaced the traditionally used locking assemblies for many years. Shrink disks can be installed much easier in a restricted space, and come in two variants:
For the three-part self-releasing model, the tensioning is accomplished with a torque wrench. By changing the tightening torques, the transmission values and the loads on the component can be adapted in a flexible manner.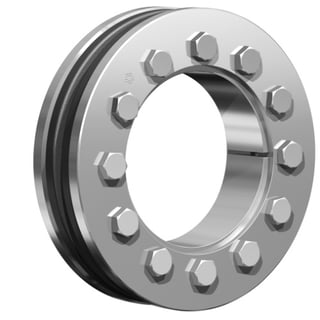 (Image: RfN 4061)
The two-part version is "tightened to block", and can therefore be mounted without a torque wrench: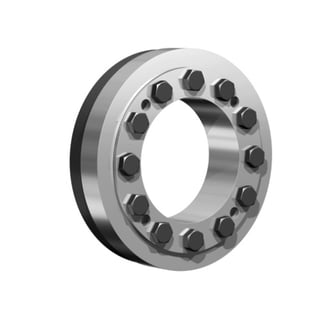 (Image: RfN 4161)
Customer Rely on Long-Standing Experience
Rainer Peter, grandson of the locking element inventor Oskar Peter and Project Manager of the entire clamping/locking engineering division at RINGFEDER POWER TRANSMISSION, puts it into a nutshell: "On account of numerous theoretical designs but also, practical trials conducted in cooperation with our customers, we today dispose of a virtually inexhaustible wealth of experience enabling us to effectively put future projects into practice – environmental influences often create a framework of challenges, and we have to find the optimum solution."
"And it is exactly this treasure trove of experience our customers rely on: For critical applications such as ship loaders or conveyor belts in the mining industry, the reliability of a locking element is of essential importance because standstills can easily lead to costs in the range of millions", explains the expert.
Product Variety and Availability
"Our product variety allows us to deliver from stock the required locking assemblies which fulfill most of the technical requirements specified by the customer", says Rainer Peter and refers to countless product variants. Whether self-centering, low contact pressure, high torque, high speed or stainless-steel – RINGFEDER POWER TRANSMISSION is able to offer fast delivery of the respective version in need. In addition, torques of up to 200 kilonewton meters and axial forces of up to 2000 kilonewton can be tested on the company-own test facilities.
Operation in the Field with Comprehensive Solutions
Peter and his colleagues not only have gained their know-how from extensive test series conducted on the facilities at the company's headquarters in Groß-Umstadt near Darmstadt, but also from practical experience when the components are in service with the customer. One example of this is a power plant, where the operator had equipped a Pelton wheel with a locking device from a competitor. However, the problem had occurred that this element could no longer be safely dismounted.
As an alternative, the RINGFEDER engineers decided to use the locking assembly Type RfN 7015.0 in size 280 x 355 millimeters, and to perform an ultimate tensioning trial with subsequent removal of the assembly. For this application, safe torque transmission, good concentricity characteristics and ease of removal are of vital importance.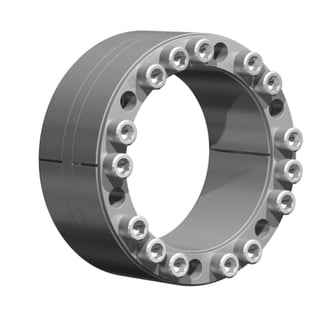 (Image: RfN 7015.0)
As the sliding movement takes place inside the locking assembly, the RfN 7015 can be removed without any problem, even if there is a bit of rust present on the shaft.
Torque Transmission and Overload Protection
In another application, the guide vanes of Kaplan turbines were optimized for a power plant builder. In the event of the ingress of foreign bodies, these vanes must be able to draw aside. In addition to transmitting torque, the locking assembly needed to slightly slip without damaging the shaft due to fretting. This property was achieved by using a special coating on the sliding surfaces.
The above examples are only a small selection of the versatile and innovative application possibilities for locking assemblies, and these do not only exist in the field of mechanical engineering Oskar Peter originally had his seeds. Meanwhile, solutions with locking assemblies have become a common standard in a wide variety of application areas, including the mining industry and steel industry.